Social Circle Business Events

Social Circle are experts in organising fun and providing tailor made team events in Manchester. We can help you bring your team together and boost staff morale.
Whether Manchester social events or adventure challenges are what your team needs, Social Circle's Manchester business events are the answer you have been looking for!
Whatever your event, our skilled organisers will put their expertise into practice.
Our 'tailor made team fun' activities are all aimed at assisting you in boosting productivity through bringing your workforce closer together.
MANCHESTER BUSINESS EVENTS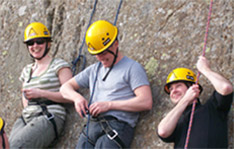 are an excellent way of bringing people together, having fun outside of the work environment. Why not try wine tasting, an organised pub crawl, or a cookery demonstration?
ADVENTURE CHALLENGES
encourage your team to bond - whether learning to salsa dance or climbing Ben Nevis. Having an achievement in common is great for bringing people together.
ACTIVITY BREAKS
nurture the camaraderie and boost the spirits of your workforce. Ever thought about outdoor adventures or problem solving?
We have given you just a taste of what's on offer. For more information and inspiration, have a look at our fun packed calendar of events in Manchester.
View Calendar of Manchester events
If you are interested in having your own Business Event in Manchester, contact us through the form below or call our Business Service Specialists on 0161 434 0098 / 07767686177 .
Please enter your details for more information: