.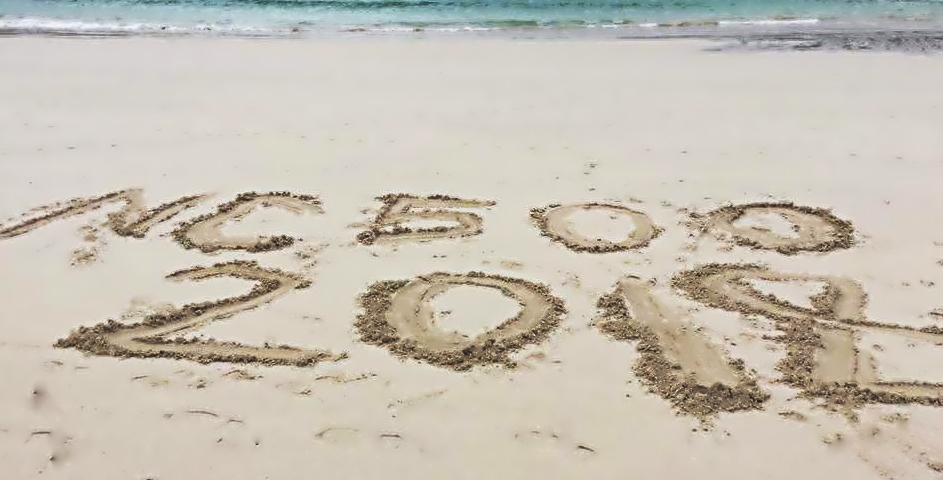 There's nothing quite like the freedom of the open road, and this summer Social Circle took off on a unforgettable road trip along the North Coast 500. In Part 2  of our adventure journal, we took in the rugged coastline as we travelled the final few hundred miles down from Lochinver to the Isle of Skye
Need to catch up? – you can read Part 1 of our road trip here.
Day Five: Lochinver – Gairloch  91.5 Miles
Scotland would not be the same without its castles, and our early morning drive north took us to the scenic Ardvreck Castle, a ruined 16th century fortification, and the remains of Calda House.
We stopped at Inchnadamph, to follow the beautiful and popular walk up through a limestone valley to the dramatic bone cave. We also paused at Achiltibuie, a picturesque and often-overlooked part of the route where calm waters meet the mountains in the horizon.
Our afternoon was spent exploring Corrieshalloch Gorge.  Corrieshalloch may mean 'Ugly Hollow' in Gaelic, but there is nothing ugly about this beautiful Nature Reserve. We found a deep tree-shrouded chasm, rich in flora and fauna, with tumbling waterfalls and fern-lined trails.  A beauty spot that was a welcome contrast to the rugged Highland wilderness that surrounds it.
As we continued our journey, the views include the distinctive profile of Suilven,  the mountains of Coigach, including – we think – a glimpse of the top of Stac Pollaidh. We passed more sandy beaches and waterfalls before stopping at the Isle of Ewe, with its pretty houses scattered like sugar lumps around the Loch.  It is well worth visiting the Isle of Ewe smokehouse, we picked up some beautifully smoked salmon as well as other smoked yumminess to enjoy as we explored the area.
Day Six. Gairloch – Applecross. 62 Miles
We spent a lot of time on our feet yesterday, so we were grateful for lie-in and an easier day on this part of the route.
Our morning was spent at  the Beinn Eighe Visitor Centre and Nature Reserve in Kinlochewe. With a cluster of mountain peaks, ancient pinewoods and soaring golden eagles it is no wonder that Beinn Eighe was chosen as Britain's first National nature reserve.  We took our time on the trails, and saw a few deer grazing by the loch.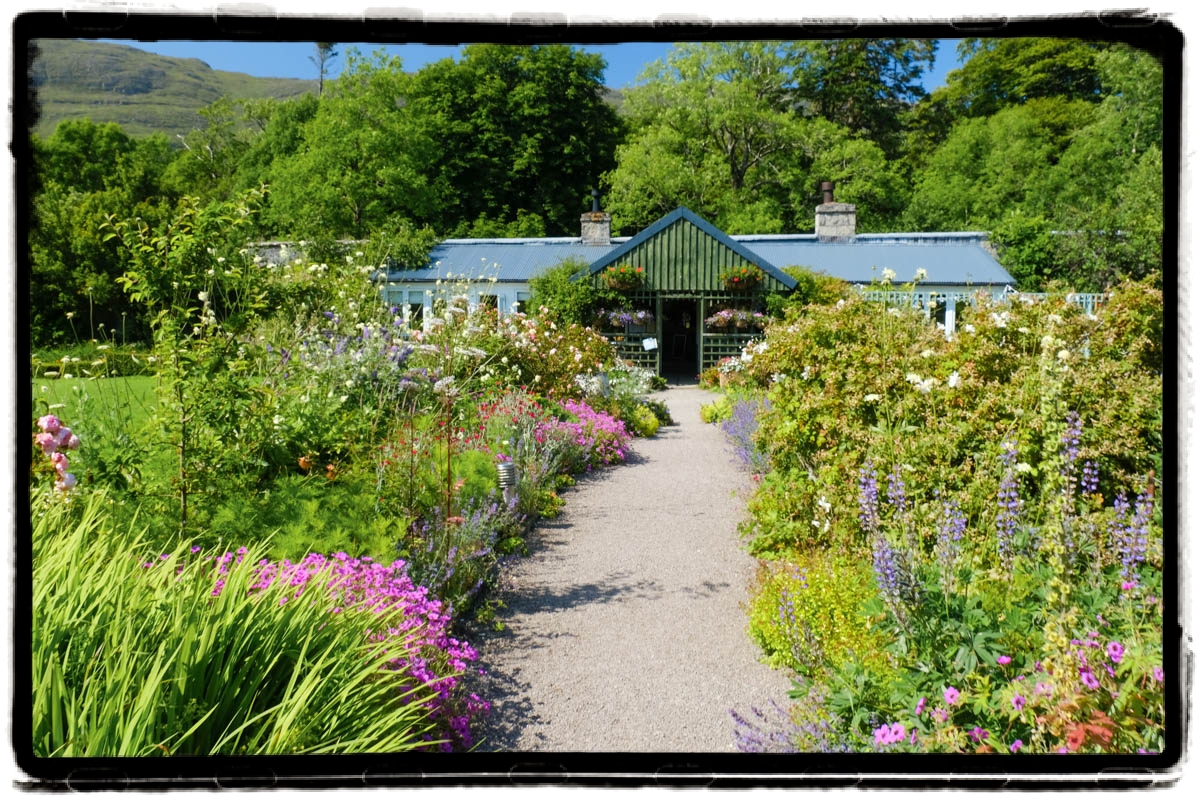 Applecross is a delight for those who like gardens and home-grown food. This victorian walled-garden was teaming with flowers and dragonflies.   We enjoyed tea and home-baked scones at the Potting Shed Cafe – which is literally a potting shed – before moving onto the local croft brewery to sample some craft ales.
Day Seven: Applecross to The Isle of Skye
If there's one thing about Skye that'll leave a lasting impression on you, it's got to be the scenery. Just driving around, you can see many of Skye's most majestic geological features, such as the Old Man of Storr, the Quiraing and the Cuillin.  Make sure you have sturdy boots and your camera is fully charged, as the views are truly breathtaking.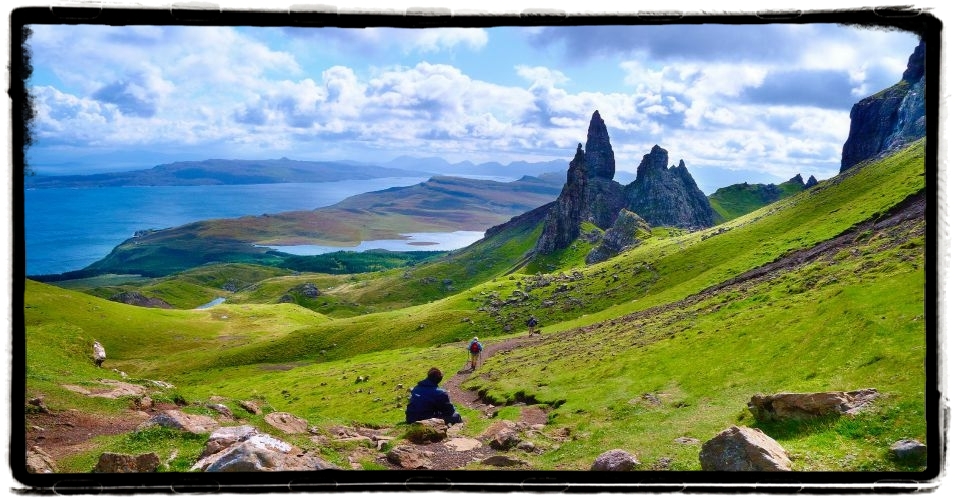 Day Eight: The Journey Home.  
After leaving the Isle of Skye we started out-reluctantly – on the journey home.  It was a useful time to catch up with Steve and the others about what they thought about the trip. 
Our host for the trip, Stephen Sutherland, had this to say.
"I think this has been the best trip Social Circle has offered in the ten years I have been hosting holidays.  It was absolutely epic. I got to tick off a few things from my bucket list. I am really happy to share this amazing experience with Social Circle members.
Steve also recorded a video on Day 5 which you can view  here
Well it looks like Steve had fun, but what did our Guests say?
Angela says
"I enjoyed an amazing holiday with Social Circle on the  great North Coast 500 Scottish Road Trip. The road coastal scenery was breathtaking  and panoramic views spectacular, especially enjoyable when Steve was doing all the driving. It exceeded all expectations! The holiday was a great mix of walks along white sandy beaches,  beautiful mountain ranges, exploring castles, visiting the smoo caves and drinking the most gorgeous hot chocolate at Cocoa Mountain. Steve was an amazing host, ensuring we enjoyed the most of each day with fine eateries , drink and fun in the evenings! We stayed in lovely accommodation, my favourite being Ackergill Tower where we enjoyed evening drinks overlooking the sea.   I was asked what was my favourite thing on the holiday ? Was it visiting Culloden Battlefield?  Dunrobin Castle? Duncansby Stacks – a geological marvel?  Clashnessie Falls?  The Isle of Skye? the I still haven't made my mind up!  This was a holiday of a lifetime and I can't recommend it enough!
Steve W  says
"The Scotland trip was a once in a lifetime opportunity to see so many lovely sights, from postcard villages, amazing stately home/castles to the outstanding scenic views which for me made the trip and to which my photos cannot do justice to, also John O'Groats was a real treat."
SM says.
"An extraordinary adventure of extraordinary scenery and sights. You often find it hard to believe this is on the same island as Manchester. The north of Scotland has a mystery about it. Time slows. The views change every few minutes. Highlights for me included the beautiful remote beaches, castles by Loch and shore, good food and drink … And the company was great too!"
Do you love the idea of getting away for a few days on a road trip of your own?
Finding it difficult to organise?
Are your friends busy or not interested in your type of holiday?
We offer the perfect solution.  We organise numerous holidays for like-minded people each year, to such destinations throughout Europe. Find out more  here
Many thanks to North Coast 500 for the suggested itinerary, and of course to all those lovely people who looked after our little group on the way.