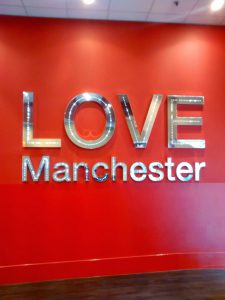 Manchester maybe known for being a sporting hub, thanks to the global popularity of Manchester United and the rising prominence of its blue counterpart. However, it is also one of the largest cities in the UK; second in terms of population, in fact. So when you are new to such a thriving city, how do you navigate without getting lost and what can you expect from your new home? Here are a few handy notes on Manchester events, venues, and more.
You will soon consider it homeIt's hard to live in Manchester without it's very core sinking deep into your bones. One day, sooner than you think, you will leave town for a day and find that you long to go back home to good ol' Manchester. The music, the nightlife, the people…all of those things you may have initially found daunting, will pull you right on in.
Meeting people is easy. And they're some of the friendliest people you will want to meet.While Manchester is a large city and a cultural hotbed, it isn't so full of itself that you will get lost in the hype. The people here are warm and friendly and will make you feel right at home.
You can learn to make your way around central Manchester in no time at allMaking your way from one area in the city centre to the next is a breeze and there is always something to see. From the trendy and eclectic Norther Quarter to the shopping beacon of the Arndale Centre and the upmarket King Street to the commercial and restaurant hub Spinningfields, you will know where you are going in no time. Along the way, you will see quirky shops, as well as the more common chains for the commercially minded, independent and chain bars and restaurants, and maybe even a celebrity or two.
You will be proud of being a Manc As an adopted citizen of Manchester, you will begin to feel  a healthy hatred of anyone who dares to say a bad word against your new, beloved city. That is especially the case if they're from Down South. Not to confuse you, there is also a thriving cosmopolitan scene. Such as is the brilliance of the city, they too tend to become proper Mancs, sooner or later.
It rivals London as the UK's media hub. Since the BBC moved here properly and we now not only have the likes of Coronation Street and Jeremy Kyle being filmed here regularly, shows such as The Voice often make their way down from the capital to allow fans to be studio guests for the day.
For those of you have recently moved to the city, click here to download our free guide on making the most out of this fab city.