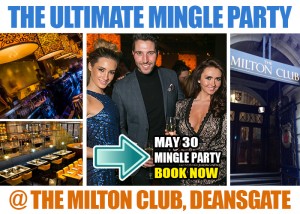 Our mingles are consistently among our most attended events and every time we plan a new one, we think of ways to make it better than the last. Well, this time we feel that we've added more spice than ever before with the venue being the VIP room of the ultra-exclusive Milton Club.
If you're a member of Social Circle, this is exactly why you joined. If you want to meet new people, this is the perfect platform in which to do that. If you're not and you want to find out what we're all about, then now is the time to either join or come along as this is one of the few events we allow non-members to attend (just to prove we're not really bias to non-members).
So come along, ready to be social and meet some fantastic and like-minded new people in a venue so cool, even the Fonz couldn't get in. You will have no choice but to widen your social circle and experience the kind of Manchester socialising your most socially connected friends could dream of.
We expect many of you to turn up and socialise but, of course, every venue has its limits so secure your place now on the Manchester socialising party of the year.