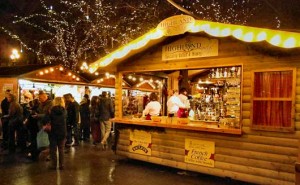 It's that time of the year when Manchester turns into one big giant super-market. Wait, that didn't sound right! Not a super-market exactly but more of a city showcasing Europe's finest food, drink, and other stuff you can buy from markets. All with a Christmas flavour, of course. And there's no other Christmas flavour that attracts the masses quite like mulled wine.
So it's time to get into the spirit of Christmas with lots of fun an socialising and often, that starts with paying a visit to Manchester's Christmas Markets. We've had the lights switch on and now we have the markets too to give the city that familiar festive look.
When an event attracts people from all over the country, you know it's gotta be good. And that's because the markets are not just a shopping experience but a leisure one.
Don't forget to sample Dutch mini pancakes, Hungarian goulash, Spanish paella and French profiteroles. Not all in one sitting, of course

But as with any local event revolving around Christmas, it is best done with an opportunity to meet new people in Manchester. Sampling a delicious mulled wine is always best done with some like-minded people who can appreciate it along with you

So come and make some new Manchester friends at the Christmas markets and enjoy the beginning of the festive season.